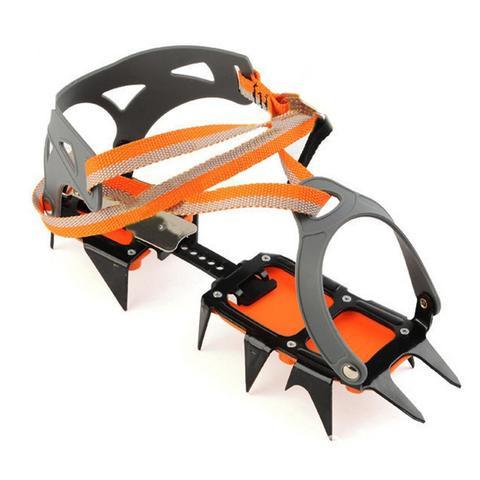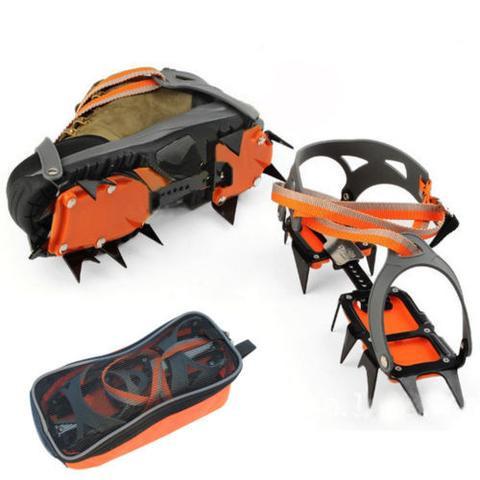 12 Teeth Steel Crampons
Main Color : orange
Size : Suitable for shoes size between 32 and 50
Material : High density manganese steel, plastic, nylon
Package size : 27 x 12 x 10cm / 10.6 x 4.7 x 3.9in
Package weight : 1080g / 2.38lb

Features :
Portable, designed for reducing the risk of walking on icy or slippery surfaces.
12 long and heat-treated cleats have strong braking power.
2-layer nylon braided strap and aluminum alloy buckle increase stability of foot.
Size can be easily adjusted by double row of rivet studs.
Easy on/off to fit boots size between 32 and 50. Not recommended for flexible shoes, trail runners, sneakers and the like.
Ideal for walking, climbing, hiking, ice fishing, etc.

Note :
1.Crampons Only, shoes displayed in pictures are NOT included.
2.Crampons are designed to use in hiking on even ice road, iced over trails/switch-backs; do not use for ice climbing 

Package includes:
1 x Pair of 12-Teeth Crampons
Available New or Used.
Used were previously rental, used once
WARNING:
The snow traction equipment described here does not eliminate the risk associated with snowy and icey conditions. When wearing such equipment as described above, always use caution, extreme care, and common sense. Failure to do so could result in injury or death. The user alone is responsible for determining whether his/her experience combined with the equipment, terrain and weather present a risk. Use only in outdoor conditions. The user alone assumes responsibility for the safe and proper use of this product and any risk associated with its use. Activities involving the use of this equipment are inherently dangerous.