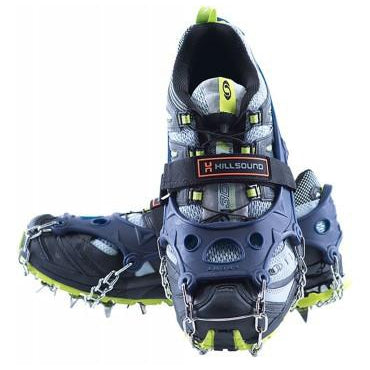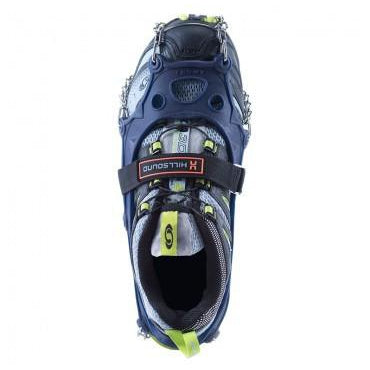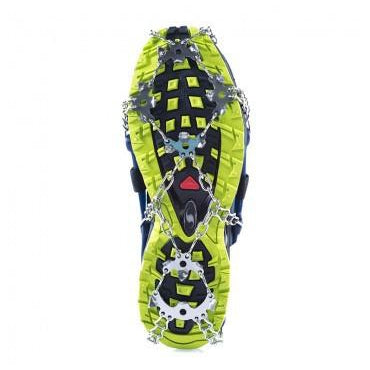 Hillsound Trail Crampon Ultra
TRAIL CRAMPON ULTRA
Made of high-quality stainless steel for durability and weight reduction, the new Trail Crampon Ultra brings the Trail Crampon's legacy of superb traction performance to those needing to travel faster and lighter. 18 spikes offer aggressive traction on any icy surface and distribute pressure to withstand wear. The Trail Crampon Ultra will help keep your running program on track through the colder months when conditions become slippery.
1.2 cm (1/2") spikes provide excellent traction on packed snow, black ice and partially covered trails.
Rip and stick strap across the top of the harness holds the device secure and prevents movement in deeper snow.
Welded chains withstand repeated torque, foot strikes and abuse on any ice and snow.
Larger heel plate gives secure traction and ultra stability for descents and trail-running.
Elastomer harness adapts to all types of footwear, fits securely and is easy to slip on and off quickly.
Ultra-light traction for trail runners conscious of carrying extra ounces.
Reinforced elastomer harness provides tear resistance and maintains pliability to sub-freezing temperatures.
Carry case included.
weight 15.7oz (size medium)
Sizing for trail-running shoes
S: US men's 8 - 10 / US women's 9 - 11/ Euro 41 - 44
M: US men's 10 - 12 / US women's 11 - 13 / Euro 44 - 46
L: US men's 12 - 14 / US women's 13+ / Euro 46 – 48.5
XL: US men's 14 - 15 / Euro 48.5 – 49.5 
Sizing for hiking footwear
S: US men's 6 - 8 / US women's 7 - 9 / Euro 38.5 - 41
M: US men's 8 - 10 / US women's 9 - 11 / Euro 41 - 44
L: US men's 10 - 12 / US women's 11 – 13 / Euro 44 - 46
XL: US men's 12 - 15 / Euro 46 – 49.5
2 FOOT ADVENTURES' CAUTION:
Hillsound Equipment Inc's products do not eliminate the risk associated with snowy and icy conditions. When wearing Hillsound products, always use caution, extreme care, and common sense. Failure to do so could result in injury or death. The user alone is responsible for determining whether his/her experience combined with the equipment, terrain and weather present a risk. Hillsound Equipment crampons are not recommended for use on any type of indoor flooring. Use only in outdoor snowy and/or icey conditions. The user alone assumes responsibility for the safe and proper use of this product and any risk associated with its use. Activities involving the use of this equipment are inherently dangerous.