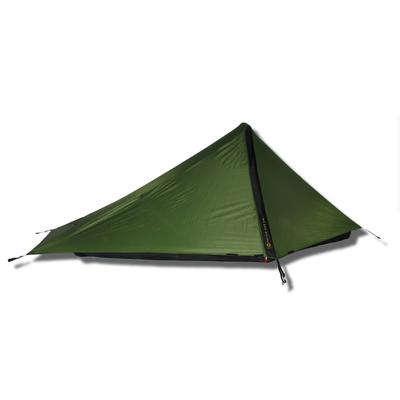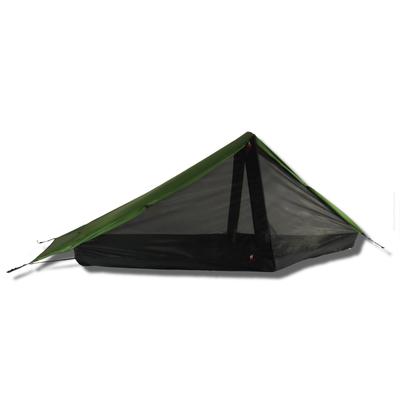 Six Moon Designs Skyscape Trekker
28 OZ - 790 G SOLO TENT - USES 2 45" POLES
The Skyscape Trekker now features new longer 3mm cord rear guy outs (not shown in photos) which provide improved interior height at the foot and increased ventilation at the rear.  Also new is the addition of reflective guy outs all around.  

All Skyscape models utilize a dual fixed length 45" or 115 cm pole support structure. We offer two optional pole types, Aluminum or Carbon Fiber. While both poles work well with the Trekker, the Aluminum poles are more affordable, while our Carbon Fiber poles are half the weight of the Aluminum poles.

The dual pole structure is slightly offset from the center of the tent. The offset yields extra headroom when lying down, reducing that claustrophobic feeling. Further, it allows the Skyscape to be extremely rigid when guyed out, creating a structure capable of riding out the worst storms.

The Skyscape employs Hybrid Double Wall construction. Over 80% of the canopy is separated from you by a mesh wall, keeping that wet canopy at bay. The Hybrid Double Wallconstruction allows the vestibules to roll back. On warm summer nights, convert the Skyscape into a net tent; pesky bugs stay outside while you enjoy the view and breeze from inside.

The Skyscape's large side entry door lets you easily enter the tent or retrieve gear. With floor length over 100 inches, the Skyscape accommodates the tallest hikers. You can carry a light tent and still sleep well.

TREKKER MODEL

The canopy and floor of the Trekker are constructed of Silicone Polyester. This fabric has been the workhorse of fabrics used to build ultralight tents for the last decade. Its main properties are its strength, light weight and that it's impervious to mold or mildew.

The Trekker is great when you want to be light but don't want to break the bank.
FEATURES:
Hybrid Double Wall
Dual Entry
Vestibules roll back for excellent views and ventilation
Dual Pole structure is extremely stable in wind and snow
Bathtub Floor
Stash Pocket
Wide ceiling gives plenty of headroom
Extended floor for tall hikers
Side entry for easy access
Easy Setup
Packs extremely small
Six Moon Tents are NOT seam sealed